Welcome to Leelanau County Information Page
For those concerned with honest elections and preventing voter fraud in our county.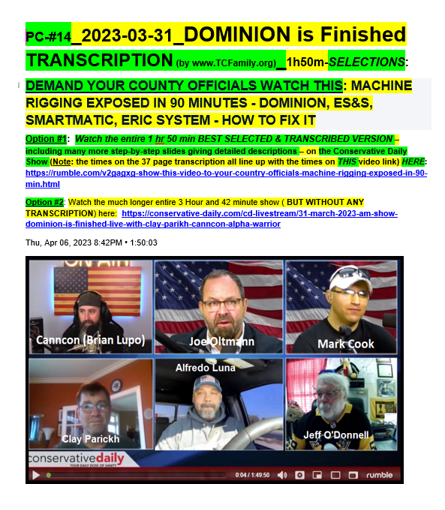 VIDEO & TRANSCRIPTION – SELECTIONS: DEMAND YOUR COUNTY OFFICIALS WATCH THIS: MACHINE RIGGING EXPOSED IN 90 MINUTES – DOMINION, ES&S, SMARTMATIC, ERIC SYSTEM – HOW TO FIX IT
There is much YOU can do to insure Honest Elections in Our Leelanau County, where every one of the 22,000+ Leelanau County men, women, and children should be able to DEMAND Honest Elections from our elected officials.  Just consider this famous quote from:
Founding Father Thomas Paine:
"The right of voting for representatives is the primary right by which other rights are protected. To take away this right is to reduce a man to slavery, for slavery consists in being subject to the will of another, and he that has not a vote in the election of representatives is in this case."
Here are a few ideas of what YOU and I can do to ensure Honest Elections in Our Leelanau County:
(NOTE:  Dr. Douglas G. Frank noted that we took the Election Machine Fraud to the Courts, but they would not hear the cases; then we took it to the 5 swing state legislations, but they did nothing. So any action that is going to happen is up to us – We the People – to take the evidence and concerns to our LOCAL COUNTY Governments.)
ATTEND any of the bi-monthly Leelanau Commissioners Meetings and you can share for up to 5 minutes all the concerns you may have concerning the Dominion "Black Box" Voting Machines that are used. (If you get to the meeting right on time, the Public Comment time often starts within 5 minutes, and you can leave any time after you give your public comment.  2022 Board of Commissioners Regular Session Schedule   2022 Board of Commissioners Executive Session Schedule

2. CALL or EMAIL your COUNTY (https://www.leelanau.gov/directory.asp), TOWNSHIP or VILLAGE REPRESENTATIVES (Especially the County and Township Clerks, Board Members, Administrators, Prosecutors, and Sheriff): (Go to the HOME Page of Leelanau County https://www.leelanau.gov/ and click on the "Government" menu at the top to go to the Individual Township and Village contact lists.) Tell them about any concerns you have about their need to provide Honest Elections for every man, woman and child in Leelanau County.
3. Hold up one of our 3 similar "Demand Honest Voting …" signs at the

Traverse City Gateway to Leelanau County by Tom's West Bay, the intersection of M72 and M-22 – to help inform every man, woman, and child living in Our Leelanau County of the great threat of Voting Machine Algorithms and Fraud.  (Contact Bill Wiesner at info@TCFamily.org, or at 231-313-6805 if you'd like to help holding up one of these (very light) 4-foot-wide Street Signs.)
4. Use any additional method you can think of to spread the word of these great attack on every man, woman, and child in Our Leelanau County.  And let's not just wait for any "PLAN" to happen; WE ARE THE PLAN.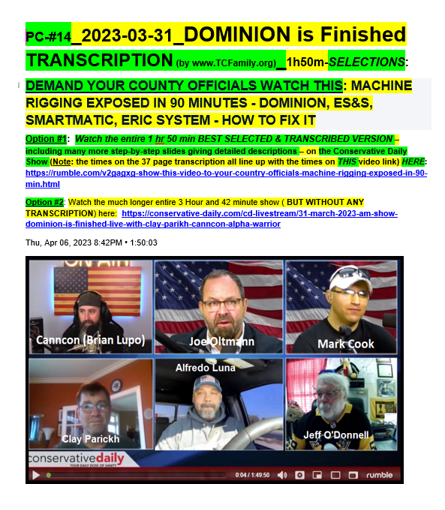 VIDEO & TRANSCRIPTION – SELECTIONS: DEMAND YOUR COUNTY OFFICIALS WATCH THIS: MACHINE RIGGING EXPOSED IN 90 MINUTES – DOMINION, ES&S, SMARTMATIC, ERIC SYSTEM – HOW TO FIX IT